Interview With Kim Kardashian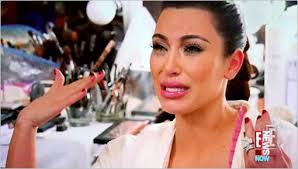 Mckenzie Gagnebin
February 2, 2017
We all know Kim Kardashian. If you don't then it's safe to say you've been living under a rock for about 10 years. To catch everyone up to speed, if they're not already there, here's the thing Kim Kardashian is an overly dramatic celebrity way to obsessed with the way she looks and didn't earn her fame.
Others may disagree with this. They may say things about how hard her life is, how gorgeous she is, and how hard she works. OK, maybe those things are true if you believe having a rich family, releasing certain videos, and marrying for title and money is earning fame.
Or having multiple surgeries to "enhance" one's figure and spend an hour to two hours on makeup everyday is really beauty. If you think that taking vacations to tropical paradises most of us could only dream of to film your show is hard work, then yes Kim K is perfect.
If you don't then you've most likely had some questions that you would like to ask her. Here they are:
Q: How do you think you really became famous?
A: Well I think that once the world got a taste of me, they just couldn't help but fall in love. I think my wonderful family and my personality have kept me in the spotlight.
Q: How's your relationship with Kanye? Can you describe it?
A: I mean we are like totally in love. I feel like he smiles more when he is with me and I love him. I love Kanye almost as much as he loves Kanye. We are soulmates whose respect and money – I mean love – keeps our relationship alive and healthy.
Q: What percent of you is real? Physically of course.
A: I mean like my heart and my mind are all genuinely mine and totally real.
Q: How do you always look so "flawless" in all of your photos?
A: Umm I guess I'm just super photogenic, I have a fab team who always preps me before photoshoots. My manager tells me they use this thing on me called photoshop. It really works.
Q: How did you come up with your children's names?
A: Omg so when we found out that I was pregnant with North we wanted to do something no one else would have thought of, something original. So me and Kanye were talking about it on the balcony of a penthouse and I looked up and I saw the North Star. It was perfect, and we didn't even realize her name would be a direction. Then with my son I wanted to name him after Kanye somehow, that's how we came up with Saint.
Q: How is your relationship with Taylor Swift?
A: She is like totally the fakest person I know. We are never getting back together.
Q: Did you ever find your $75,000 earring you lost while swimming in the ocean?
A: Wow this is a super-emotional question for me. I don't think I can answer this without crying. You know it was just traumatizing experience.
Q: OK Kim we have one final question that a lot of people are curious about. Do you borrow Caitlyn Jenner's' clothes?
A: Umm no they aren't tight enough. Sometimes she borrows mine though.