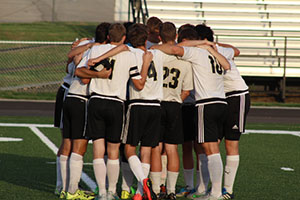 Senior Kyle Wokutch has a dual role this fall as the defender for varsity soccer and kicker for the football team.
So far this season the soccer team is 3-6, and the football team is 3-1.
"I go to all my soccer practices, then I hustle on over to football to go kick," he said.
Wokutch said he enjoys both of the sports, but prefers soccer because he has played his entire life. He said he has been captain for our team for the last three years.
"To have success, you have to work all the time by running, staying fit and doing other sports," Wokutch said.
As captain of the team, he said he makes sure the team is doing what they are supposed to be doing. He said he helps push his team to do more by learning new techniques every year.
"Hopefully we can bring soccer into a winning season for the second time in school history," Wokutch said.