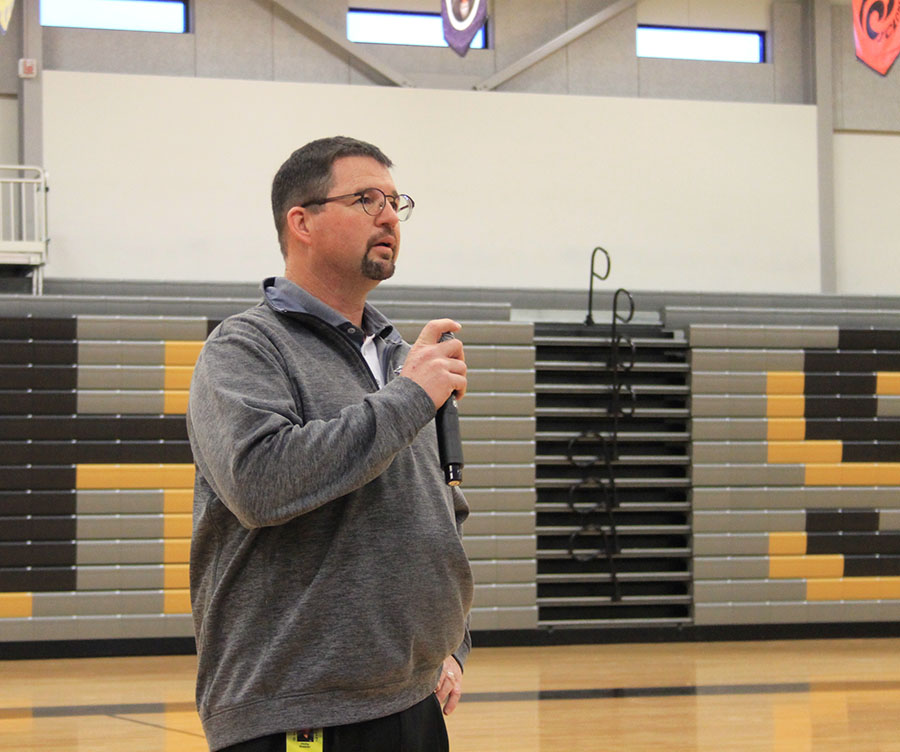 Ethan Paulsmeier
Principal Phil Bressler said he will miss his students the most.
"There are a lot of faces that I will really miss in this school," Bressler said.
Looking around, Bressler would be seen standing at every game, concert, meet, tournament, show or contest. He would make sure to greet, highfive or give knuckles to each and every student walking through the halls.
Bressler has been working at Paola High School for six years. He resigned to accept a job in Pittsburgh as principal. He said that he was contacted on Friday to see if he was still interested, had an interview Friday afternoon, interviewed Monday morning and was offered the job Monday afternoon. By Monday evening he had accepted the job.
"My friend always pushed me to be an administrator and I decided to stay in Paola," Bressler said. "Later on, God opened another door for me and I decided to take the offer and my friend's advice."
Bressler said that going from a 4A to a 5A school will be different, but good.
"I think the toughest thing about this transfer will be learning over 900 new names," he said. "Although my family and I will miss many things here, God opened a door for us and I believe it was for a reason."
He said that he is very strong in his faith and believes that God will open some doors, but not others. Bressler said that he lives by the bible verse hanging on his refrigerator: Jeremiah 29:11. The verse says " 'For I know the plans I have for you,' declares the LORD, 'plans to prosper you and not to harm you, plans to give you hope and a future.'"
He said that he hopes his kids will learn to face their fears as a result of his resignation.
"I could have stayed in the safety of what I know, but I want my kids to learn to face their fears,  branch out and explore," Bressler said.
His son Caden Bressler, 9, said that he will miss his baseball teammates the most and that he's nervous for the move because he doesn't know what to expect.
"I know this move will be hard, but it's for the best for our family." Caden said.